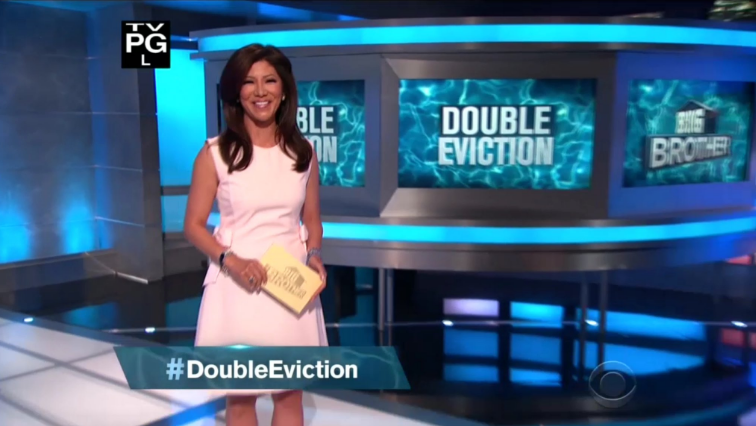 Tonight is double eviction night on Big Brother 19 and what a night it has been! First we got to see as another Big Brother 19 HG was sent out the doors and then we got an entire week's worth of show all in one night! It's been an exciting night and we've all the details of how it went down in our Big Brother 19 spoilers! Read for more further to find out. Warning: This article contains Spoilers from 'Big Brother 19' Live feeds that have not yet aired…Read at your own risk!
There are some houseguests who were anticipating tonight's double eviction, while others, such as Alex, Raven, and Jason, who didn't think so. We'll be seeing an eviction, HOH competition, nominations, Power of Veto competition, POV ceremony, and another live eviction all during tonight's one hour show!
The target of tonight's first eviction was very clear going in, as virtually everyone in the house was in agreement that Cody needed to go and even those who didn't think so were in a position where they couldn't stick their neck out for him.
Big Brother 19 Week 7 First Eviction 
Christmas voted to evict Cody

Jason voted to evict Cody

Josh voted to evict Cody

Kevin voted to evict Cody

Mark voted to evict Cody

Paul voted to evict Cody

Raven voted to evict Cody

By a vote of 7-0, Cody was evicted
Cody's eviction was expected, so there wasn't any fallout or drama that followed it. The houseguests then had to make their way into the backyard to get themselves ready to compete in the Head of Household competition.
Big Brother 19 Double Eviction Head of Household Competition:
Round 1: Josh knocked out Matt. Josh chose Mark and Elena to face off.

Round 2: Mark knocked out Elena. Mark chose Christmas and Kevin to face off.

Round 3: Christmas knocked out Kevin. Christmas chose Jason and Mark to face off.

Round 4: Jason knocked out Mark. Christmas and Paul had to face off by default

Round 5: Christmas knocked out Paul

Round 6: Jason knocked out Christmas, making him the new HOH
The houseguests were given just minutes to discuss who should be nominated before moving onto the nomination ceremony.
Big Brother 19 Double Eviction Nomination Ceremony:
Jason nominated Mark and Elena
Following the nomination ceremony, the Power of Veto players were chosen. Those who were chosen to compete made their way to the backyard to compete for the veto alongside those who were just nominated.
Big Brother 19 Double Eviction POV Competition:
Mark won the Power of Veto
Big Brother 19 Double Eviction POV Ceremony:
Mark used the POV on himself

Jason nominated Matt as the replacement nominee
The POV ceremony locked the nominations in place, meaning that those were the houseguests that everyone would have to choose between evicting.
Big Brother 19 Week 7 Second Eviction:
Raven votes to evict Elena

Alex votes to evict Elena

Mark votes to evict Matt

Josh votes to evict Elena

Paul votes to evict Elena

Christmas votes to evict Elena

Kevin votes to evict Elena

By a vote of 6-1, Elena was evicted
There wasn't any big shakeups due to the style of HOH competition it was. The feeds won't be returning tonight due to a special episode that is airing tomorrow night, so we won't know who won the second HOH competition later in the night, nor will we know who was nominated tomorrow evening. Make sure you check back to find out the moment the feeds return!
Now tell us! Are you happy with tonight's Double Eviction results? Share your thoughts in the comment section below.
If you haven't signed up yet, you can get a 1-month Free Trial with promo code BB19SALE. That'll get you through the entire rest of the season's Feeds for free! So yeah.
Want more Big Brother? Then join us back here for our daily Big Brother updates and then get ready for the conversation on our social media platforms, FACEBOOK and TWITTER.
Comments
comments